Overnight Transit Tour in Addis Ababa
Private Overnight Transit Tour in Addis Ababa with Local Tour Guide - Short (less than 6 hours) overnight transit tours and nightlife experiences in Addis Ababa - Fun activities and culture-themed things to do in Addis Ababa at night for 2022
If you have an evening stopover at Addis Ababa and look for fun activities and experiences in Addis, you have found it! Our overnight transit tour in Addis Ababa is all you need. This layover trip is a perfect way to experience Ethiopia and know Addis Ababa while waiting for your connecting flight.
This page gets you informed for the best things-to-do at night in Addis Ababa. Know what to do and customize our enjoyable short layover tour in Addis Ababa. If you have few hours during the day, get to know the best of Addis Ababa booking our half-day layover tour.
For your Addis Ababa layover tour related inquiries, please email us or ! We'll be back to you shortly.
Let's get going on!
Short overview of the overnight transit tour in Addis Ababa
Addis Ababa (capital of Ethiopia) is Africa's biggest diplomatic base. It is because Addis Ababa is the seat of major international institutions and embassies. The Headquarters of the UN Economic Commission for Africa (ECA), and the African Union (AU) are in Addis.
Addis Ababa is home to Africa's biggest Airline – the Ethiopian Airlines. This African giant carrier serves the largest number of destinations in Africa. Thousands of passengers stop at Addis Ababa on a layover connecting their flights.
If you have an overnight layover or short stopover at Addis Ababa, it is no wonder that you would ask: -
- Is Addis Ababa a safe city?
- How to experience a great nightlife in Addis Ababa?
- What are the things to do in Addis Ababa at night?
- Are there interesting tours in Addis Ababa for transits through Addis Ababa?
Find helpful answers for the above questions. Get our suggested things-to-do in Addis Ababa, and activities you can try at night in Addis Ababa.
Things to know regarding this evening event in Addis Ababa
Best time for this activity is from 4:00 PM to 12:00 AM

We use clean, comfortable private vehicles to drive in Addis Ababa

Expert tour guide escort you to the safest places in Addis

It is 100% free to customize this overnight transit tour of Addis Abeba. We adapt this event to your flight arrival and departure times, and other requests.

We strictly adhere to recommended safety measures to keep you, staff, and community safe from Coronavirus.

Visit Addis Ababa with an expert local tour guide with passion to make your trip special.

If you're flying Ethiopian Airlines but don't want to follow the flags of the group tour the airline provides, this private guided transit is the best option around.
List of activities and things-to-do in Addis Ababa at night
Dine at a traditional Ethiopian restaurant to experience the food culture of Ethiopia

See LIVE cultural folk music and dance shows of Ethiopians at 2000 Habesha Traditional Ethiopian Restaurant

Stop at a LIVE Ethiopian Jazz Club

Have a scenic drive on principal streets of Addis Ababa

Take part in Ethiopian Coffee Ceremony

Experience Traditional Ethiopian bars known as 'Azmari Bet'

Shop for tasty Ethiopian Coffee, local spices, and traditional Ethiopian handcrafts and costumes
Cultural Ethiopian Dinner with Live Dance Show
Check a couple of the best traditional Ethiopian Restaurants in Addis Ababa. Try varieties of delicious Ethiopian meals and taste 'Tej' – the Ethiopian Honey Wine. Use your fingers to eat the Ethiopian spongy bread known as Injera (made of Teff grains). Share a plate of deliciously spice Ethiopian cuisine among small groups.
Are you interested only on Ethiopian dinner with LIVE Dance performances? Book our Ethiopian Cultural Dinner and LIVE Dance Show online.
LIVE Folkloric Dance Performance of Ethiopians
Enjoying yummy Ethiopian cuisine, see the LIVE dance performances of the different tribes. The dancers wear costumes of the corresponding tribes. Ethiopia is Africa's second-biggest country with 82 different ethnic groups. Learn Ethiopian history and culture of Ethiopians from your tour guide.
Stop at a LIVE Ethiopian Jazz Club
Ethiopia has a big name for its Jazz Music. African Jazz Village is the most popular Ethiopian Jazz Club in Addis Ababa.
Take a relaxed drive on the highways of Addis Ababa
Have a scenic drive on Addis Ababa's main streets. Depending on how long you spend on tour and where you'll be staying at, you'll drive by major monuments in Addis Ababa. Sit back, relax, and enjoy the save drive in Addis Ababa to see its iconic sites. Learn about each location from your guide.
If you have more than 6 hours available for visiting Addis Ababa, our full-day city tour enables to do more in the city. For visitors who have 4 to 5 hours during the day, our half-day layover tour in Addis Ababa is interesting. Keep reading and find more about this evening excursion and what you can do in the city after sunset.
A few iconic sights you'll see in Addis Ababa include: -
• Meskel Square (the main square in Addis Ababa),
• UN Economic Commission for Africa (UN ECA) building,
• Lion of Judah Monument, and
• The Headquarters of the African Union.
Ethiopian Coffee Ceremony
It was in the West Ethiopian region of "Kaffa" coffee was originally discovered. And the 'Coffee Ceremony' is one of Ethiopia's distinctive cultural traits. Your tour guide narrates the importance of Coffee for Ethiopia and Ethiopians. Like an Ethiopian, participate in the ritual coffee ceremony.
See the settings of the ceremony. Watch a typical Ethiopian coffee ceremony in action. Washing and roasting the coffee beans are the first steps. It is manually pounded after customers are treated to the scents of the roasted coffee smoke.
Follow up the coffee brewing while smelling the fragrant Frankincense. Enjoy one of the finest cups of coffee you've ever had.
At the end, you can stop at a supermarket to buy the best quality Ethiopian Coffee. For detailed information on how Ethiopian Coffee is Performed
'Azmari Bet' Experience
Take a look at one of the few Azmari Bets in Addis Ababa. Azmari Bet is a traditional Ethiopian bar with a band of two (a couple). The band entertains guests playing Masinko (Ethiopian Fiddle), singing and shoulder dancing.
During the duet, the singers make fun on each other with singing. They make the poems up at the spot. That is to make spectators relax. The singers at Azmari Bets praise and appreciate guests individually with rhythms. It is a way of earning prizes for their admiration (commends). And, it is customary to put the paper money prize on the foreheads of the singer.
The best place for 'Azmari Bet' experience in Addis Ababa is Fendika Azmari Bet.
Shopping in Addis Ababa City
Depending on what time you are in Addis Ababa, take time for shopping at Shiro Meda Local Market. Shiro Meda is famous for handwoven colorful Ethiopian women's dresses (Habesha Dresses) and scarves. Here, you can find small handcrafts (gift items).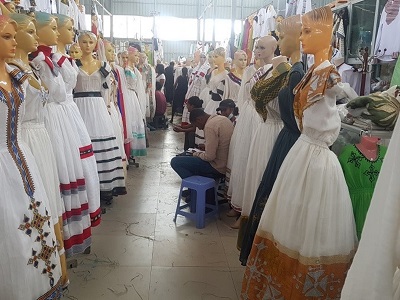 If you are in Addis Ababa after 8:00 PM, visit a supermarket to shop for the finest Ethiopian Coffee to take with you. Ethiopian local spices and organic forest honey are other items you may shop for.
Your tour guide advises on where to shop at, considering what you want to buy.
Price of Overnight Transit Tour in Addis Ababa
Basic tour price of this Addis Ababa stopover tour (Maximum 6 hours) is: -
- 70 US Dollars for 1 or 2 people in group
- 85 US Dollars for 3 to 6 people per group
The above tour price includes private vehicle with fuel and driver. We use comfortable, insured, and clean Toyota Corolla (for 1 or 2 visitors). For 3 to 6 travelers, we use Toyota Minivan of 2017 Model. English-speaking driver runs vehicle during this Addis Ababa stopover tour responsibly.
Prices of add-ons (extra) services
- 45 US Dollars for professional local tour guide (per group)
- 20 US Dollars Ethiopia Coffee Ceremony Activity (per group)
- 25 US Dollars for dinner at Ethiopian Restaurant with a bottle of 'Tej' – Ethiopian Honey Wine (per person)
NOTE – This short stopover tour includes free pick-up and drop-off from and to Addis Ababa Bole International Airport. You can start and end this overnight tour from your transit hotel in Addis Ababa.
IMPORTANT TIP – To get enough time for the tour, it is advisable to get your entry visa to Ethiopia online. Doing this saves you the time you would spend waiting in queue for your visa on arrival. Apply online for your Ethiopia Transit Visa.
When you check in to fly to Addis Ababa, check-in for the next flight as well. Having the boarding pass for the flight from Addis Ababa helps you check in faster after the tour of Addis.
If you have a stopover in Addis Ababa in the evening and would like to enjoy cultural activities in Addis Nightlife, please contact us. We customize the overnight transit tour in Addis Ababa to fit with your flight arrival and departure times, and your other requests.
Merit Ethiopian Experience Tours [MEET] also offers private 1 to 3 days tours packages from Addis Ababa. See the list of day trips near Addis Ababa to visit top ranked tour destinations in one day. You can always ask to customize our Addis Ababa tour packages to your specific desires.
If you need more security and assurance in booking this night activity, BOOK ONLINE – Ethiopian Cultural Dinner with LIVE Dance Show in Addis Ababa
Did you book any tour with Merit Ethiopian Experience Tours [MEET]?
We would love to hear your feedbacks on our travel services. Your positive review fuels us to keep delivering our best tours in and near Addis Ababa. We are always ready to learn from all visitors' opinions.
Please, click below and take a moment to share your experience with Cultural Ethiopian Dinner, Overnight Tour in Addis Ababa on TripAdvisor.
Related Questions and Answers - Stopovers in Addis Ababa
You may ask "How do you get around Addis Ababa?" For the above stopover tour in Addis Ababa, we consider using Toyota Corolla for small group of one or two people. And, 12-seater Toyota Minivan is used to get around Addis Ababa for three to six visitors in a group.
If you are wondering how you get around Addis Ababa by yourself, the safest means of travel is using ride sharing taxi company known as FERES. Dial 6090 or download Feres App to order your trip in Addis Ababa.
GET THE SOLUTION WITH US TO HAVE IT YOUR WAY!
Contact us soon at meetmule@yahoo.co.uk or mulukengirma31@gmail.com, or info@meetmule.com
Call us on +251-911-360488 OR +251-963-078067
Drop us a message or chat with us on WhatsApp
Twitter - Follow us on Twitter