BISHOFTU - DEBRE ZEIT
Bishoftu or Debre Zeit, Ethiopia
Crater Lakes of Bishoftu and other tourist attractions of Bishoftu (Debre Zeit) - What to do at Bishoftu with a day trip from Addis Ababa
IMPORTANT UPDATE
1 – ENTRY VISA TO ETHIOPIA It is better that you get your entry visa to Ethiopia in advance by applying online. Getting your e-visas before arrival at Addis Ababa Bole Int'l Airport saves you the time you would spend waiting to get the visa on arrival. Check the Ethiopian Immigration and Citizenship Service website.

2 – WHAT NOT TO BRING For security reasons, it is NOT ALLOWED to bring in drones, satellite phones, BINOCULARS, etc. to Addis Ababa. If you carry those items, it is better to check them in to your next destination (when checking in to fly to Addis Ababa).
Bishoftu (ቢሾፍቱ), also known as Debre Zeit (ደብረ ዘይት), is a lively beautiful town 50 km east of Addis Ababa. 'Bishoftu' is the local Oromo name for Debre Zeit. The town is known for people in Addis Ababa as 'Debre Zeit' – the name Emperor Haile Selassie I gave Bishoftu.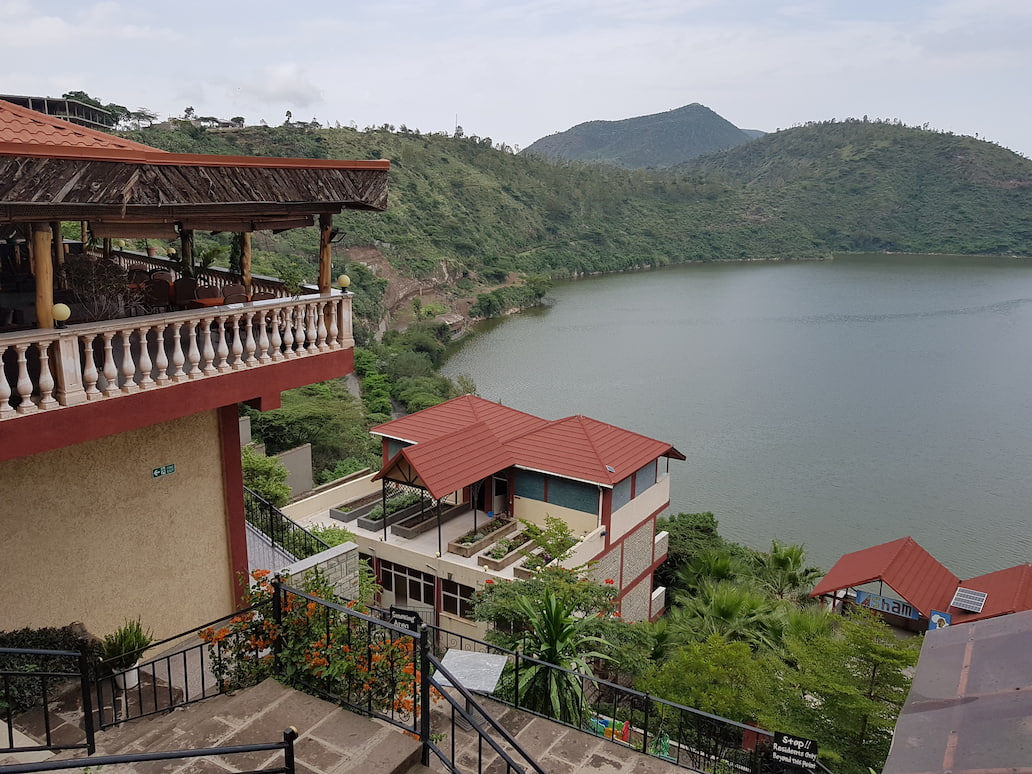 Debre Zeit, meaning 'Mount of Olives', can be reached in about 1 hour drive from Addis Ababa. Bishoftu (Debre Zeit) is one of the biggest towns along the Addis Ababa – Adama Express Way.
Debre Zeit (Bishoftu) town of Ethiopia is a popular weekend resort center for foreign visitors and locals from Addis Ababa. It is because
Debre Zeit is endowed with five attractive crater lakes

Bishoftu is only 1 hour drive from Addis Ababa

Bishoftu (Debre Zeit) is a great attraction for nature lovers and birding

Debre Zeit has well-furnished hotels and kids' playgrounds including Kuriftu Resort and Kuriftu Water Park
Debre Zeit (Bishoftu), set at an altitude of 1,900 meters above sea level, is the gateway to the Ethiopian part of the Great East African Rift Valley.
The main attraction of Debre Zeit is town's main attraction is the chain of beautiful crater lakes set within steep volcanic calderas. The most popular lakes in the vicinity of Bishoftu are Lake Bishoftu and Lake Hora.
The 90 meters deep Lake Bishoftu lies no more than 500m south of the main road. Lake Bishoftu is notable for its appealing visual scenery. It is a nice spot to see Rüppell's Griffin Vulture. Ferruginous Duck, Maccoa Duck and the seasonal lesser flamingoes can be seen at Lake Bishoftu.
The biggest Crater Lake around Bishoftu is the 1.1 square kilo meters wide – Lake Hora. In addition to a number of water birds the lakes supports, Lake Hora is the site where the colorful cultural Thanksgiving festival of the Oromo people is celebrated at. The Thanksgiving celebration of the Oromo people is known as Irreecha.
Irreecha - Thanksgiving holiday of the Oromo people is celebrated a week after the famous Meskel Celebration is held. Irreecha marks the end of the long rainy season (June to September). Irreecha is held usually on October 1st every year at Lake Hora. Irreecha is celebrated to give thanks to Waaqa Tokkicha (The One God).
Lake Babogaya and Lake Kuriftu at Bishoftu are the other interesting attractions visitors find worth stopping at.
Lake Kuriftu is probably the most visited of the crater lakes of Bishoftu (Debre Zeit). Lake Kuriftu is also the most developed with fancy accommodations and tourist facilities like swimming pools, sauna, spa, massage and related health services.
Kuriftu Water Park is Ethiopia's first and the biggest water park in East Africa. Kuriftu Water Park, by Lake Kuriftu, is an ideal place for day tour from Addis Ababa for families with children.
The non-volcanic shallow Lake of Chelekleka often hosts large numbers of flamingo and pelicans, and thousands of migrant European cranes overnight there from November to February.
Another place of visit tourists find interesting to visit is the Lemma Guya Art Gallery. This unique gallery displays artistic paintings of Lemma Guya on goat skin using the hairs as part of his paintings.
Notable attractions near Bishoftu (Debre Zeit) for savvy and adventurous tourists are: -
Mount Zuqualla (Ziquala)

– The 3,000 meters high extinct volcano of Mount Zuqualla is located 30 km south of Debre Zeit. Mount Zuqualla has a beautiful small lake on the top. The waters of this lake considered holy for Ethiopian Orthodox Christians. The most famous attraction of Mount Zuqualla (Ziquala) is the 13th Century Monastery founded by the Egyptian saint – Abune Gebre Menfes Kidus (in short 'Abbo').
Akaki Wetlands – Nature lovers and bird watchers find the wetlands supplied by Akaki River. The best time to explore the Akaki Wetlands is during the rainy season (June to September) as visitors can see a number of water birds including the European Migrants – European Stork and Grey Wagtails.
Mount Yerer – Trekking to the top of Mount Yerer is what adventurous visitors would love to. The 3,100 meters peak at Mount Yerer offers an excellent view to the surrounding plains, the crater lakes of Bishoftu and the town of Debre Zeit.
Discover best attractions near Addis including the crater lakes of Bishoftu or Debre Zeit with our Day trips from Addis Ababa.
Merit Ethiopian Experience Tours also offers two day tours from Addis Ababa. We let you customize the excursions your way. We offer free hotel/airport pick up and drop offs with flexible tour start and end times.
Contact Merit Ethiopian Experience Tours soon to organize your travels to visit best attractions near Addis Ababa including Bishoftu Crater Lakes.
MERIT ETHIOPIAN EXPERIENCE TOURS [MEET]
Book EthioPerience!
---
Contact us soon at meetmule@yahoo.co.uk or mulukengirma31@gmail.com, or info@meetmule.com
Call us on +251-911-360488 OR +251-963-078067
Drop us a message or chat with us on WhatsApp
Twitter - Follow us on Twitter