Day Tour - Adadi Mariam Church and Tiya Steles from Addis Ababa
This day trip from Addis Ababa is to visit Adadi Mariam and the UNESCO World Heritage Site of Tiya. It is one of the most frequently booked excursions of Merit Ethiopian Experience Tours. We use sanitized comfortable private vehicles for this day trip. Local tour guide leads this trip of one day from Addis.
Among our one day trips from Addis Ababa, this tour is unique for combining visits to historical and natural attractions. It also includes cultural experiences and visiting a religious site of Ethiopia. You will visit the old stone cut church of Adadi Mariam. Discover Ethiopian history at the UNESCO World Heritage Site of the cemetery of Tiya Stele Field.
General information about Day Tour to Adadi Mariam Rock Church and Tiya Steles
Duration - 8 to 9 hours
Total Distance Covered – 200 km
Major Points of Interest and Attractions to visit: -
- Adadi Maryam Rock Church (founded in the 13th Century AD and still used)
- The UNESCO World Heritage site of the Steles of Tiya (a grave site from the 14th Century AD)
- Scenic stops at best viewpoints to see the Rift Valley
- Local cultural experience and Ethiopian Coffee Ceremony
- Taste delicious Ethiopian meals at a local restaurant and
- Visit a weekly held cultural market (Sundays and Thursdays)
This Addis Ababa day tour also includes enjoying stunning views of the Rift Valley. And experience life of locals by visiting a local family.
On Thursdays and Sundays, visit a weekly held cultural local market of the Oromo people.
Itinerary: Meet your professional local tour guide at your hotel in Addis Ababa. After a brief introduction of the day trip, start driving south of Addis Ababa. We use a private Toyota Corolla (1 or 2 people or Toyota Minivan (3 to 6 people). Our vehicles have air conditioning and seat belts.
Along the tour, you can stop at best viewpoints for photos and breaks.

The first stop this day trip is at an outlook to enjoy and take photos of the picturesque Rift Valley of Ethiopia. The Rift Valley of Southern Ethiopia is part of the Great East African Rift Valley.
Then walk over the bridge over the Awash River. Awash is one of the biggest rivers in Ethiopia and an inbound river which doesn't reach the sea.
Drive 55 km southwest of Addis Ababa on the way to Butajira town. Then, turn right and continue driving 12 km on gravel road to Adadi Mariam Church.
Visit the ancient rock carved church of Adadi Mariyam. The famous King Lalibela carved Adadi Mariam church from a single piece of rock in the 13th Century. King Lalibela is famous for carving the more sophisticated, beautiful churches of Lalibela. These rock churches are in the Northern Ethiopia at the town of Lalibela.
You may wonder why King Lalibela established Adadi Mariyam Church far south apart from the 11 rock churches in the North of the country. It was when King Lalibela visited Zuquala Abo Monsatery which is around Adadi that he carved the monolithic Adadi Mariyam Church in the 13th Century AD. Please, read our blog on Adadi Mariam Rock Church.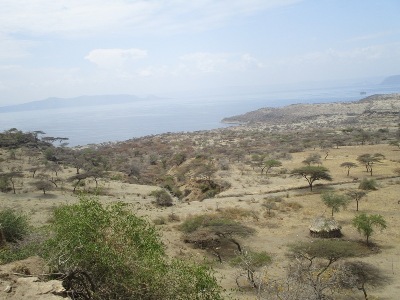 On Thursdays and Sundays, visit the colorful cultural weekly market at Adadi town. Weekly held cultural markets in Ethiopia have significant social importance.
On the way back to the main road, stop for half an hour at a local family house. Attend Ethiopian Coffee Ceremony. Learn how to cook the Ethiopian pancake - Enjera (or Injera).
Next, drive 30 km farther south to the Steles of Tiya. The archeological site was designated a World Heritage Site in 1980. At the cemetery of Tiya, visit 40 stone grave markers. These steles have beautiful carvings of swords and other marks. They stood in the 14th Century AD in honor of local hero. The Steles of Tiya is the nearest UNESCO World Heritage Site of Ethiopia to Addis Ababa.
En route back to Addis Ababa, stop at a small local restaurant for lunch.
If interested in archaeology and prehistory, visit the Prehistoric site of Melka Kunture. Melka Kunture Prehistoric Site is 50 km south of Addis Ababa, set by the Awash River. Melka Kunture displays old stone tools, fossils of human beings and other animals which are over 1.5 million years old.
Melka Kunture has exhibits of four divisions classified with their displays and focus of study. Geology in prehistoric Africa and study of volcanoes are part of the visit. Your tour guide at Melka Kunture takes you to the Open-Air Excavation Site. This outdoor museum at Melka Kunture dates back to 800,000 years (0.8 million years) back.
This is a private day tour of Addis Ababa is bookable for up to 6 visitors in a group for the same price. If you want the trip price per person with the corresponding group size, let us know.
Day tour price includes: -
• Private comfortable Toyota Corolla or Toyota Minivan
• Fuel (gasoline) and driver's allowance
• Family visit and Ethiopian coffee ceremony attendance
• Mineral water and local snacks
• Professional experienced English-speaking tour guide and all related government taxes.
This 1-day trip from Addis can be extended to include visits of Lake Ziway which has a remarkable birdlife. The other Addis Ababa day trip we organize is to visit the famous Debre Libanos Monastery.
Please, read how other visitors enjoyed the day tour from Addis Ababa.
Check other interesting private day trips near Addis Ababa we offer.
And, contact us for more information about the excursion or booking this Addis day tour to Adadi Maryam Rock Church and Steles of Tiya. If you booked one of the day tours with Merit Ethiopian Experience Tours, please tell us how you enjoyed it and what we have to improve by clicking the link below.